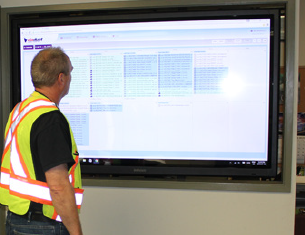 Construction projects move quickly.
With timelines crunched, lead times shortened, and the labor supply in demand, there isn't a lot of time left to collect productivity and efficiency data. But in a fast-paced market, productivity is key and companies that do not measure their efficiency will fail to adapt.
"I believe if you can't measure it you can't improve it," says James Beveridge, vice-president of operations for BuildCentrix. "As pre-fabrication is on the rise in the mechanical industry, being able to manage all of your production in a single platform, connect the field and project managers to the material headed to the job site, and get automated key performance indicators and reports on the fabrication performance is a really powerful tool for contractors."
BuildCentrix provides contractors with relational data for measuring shop time (fabrication labor), and the type of fabrication (material, fitting type, size)—all compared against their budgets. Companies with multiple locations can collect this data and compare it across branches, opening up new possibilities for streamlining operations and processes.
As an example, a company using paper timecards and a variety of different computer aided manufacturing (CAM) softwares across different locations would struggle to compile and compare data in a meaningful way, says Beveridge. "Paper timecards only capture payroll data, and not in any way related to the actual type of fabrication being done in the shop," he says. "Using CAM software – especially different kinds in different shops – does not allow robust reporting. Without a standardized workflow system and a digital shop timecard it is impossible to measure productivity between shops."
Modern Niagara is an institutional and commercial construction contractor with five locations and over 2,000 employees across Canada. The company offers mechanical and electrical contracting, building services, and building control systems, working closely with building constructors, owners, and managers to optimize the performance of buildings of all sizes, new and established.
Mario Pitoscia is director of construction services for Modern Niagara. He says implementing BuildCentrix was a positive move for the company because it allows collection of relational data across locations.
"It was the first time we saw any true sheet metal shop management process and monitoring tool," says Pitoscia. "The whole process for collecting information in our industry hasn't changed much in 60 or 70 years. People used to write on paper with a carbon copy, then came the fax, then email, but really this hasn't amounted to big changes in process or efficiency. BuildCentrix is the first time we've seen a dedicated product to foster and support our company's needs going forward."
BuildCentrix serves all trades and types of fabrication in a contractor's fabrication facilities, the in-depth reporting of material and fabrication data in the fabrication facility, and the integration of this information into other business systems.
"It is really a software system that allows you to identify the labor associated with a fitting and that really provides measurable data," says Pitoscia. "It is a real solution, a true process that allows us to collect measurable data."
Modern Niagara is still in the early stages of using BuildCentrix, and its various locations across Canada are in different stages of implementation. Once established, however, the software's use across branches is expected to produce key deliverables for the company.
"We now have the ability to review data of five regional offices using the same format," says says Scott Black, manager, project support for Modern Niagara. "We are now able to quickly identify where we may exceling on a particular item in one region over other regions, and with this knowledge we are able to drive change."
Prior to using BuildCentrix, Modern Niagara collected data using an ERP system and Excel spreadsheets, which was cumbersome and negated the ability to easily access data across a robust range of sources.
"The value [with BuildCentrix] is the data is only inputted once," says Pitoscia. "Previously, we spent a lot of time getting data through various resources and trying to compile it. Now it is a one-time entry and very user friendly." ■
By Jessica Kirby