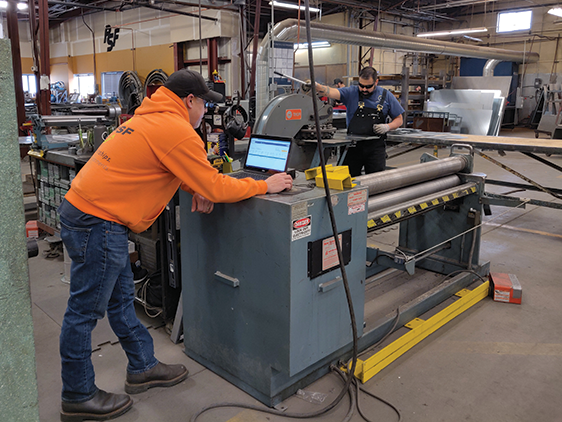 PSF MECHANICAL is one of the Pacific Northwest's leading full-service commercial mechanical firms. Its scope of work spans the United States, and its commitment to quality and leadership is more than 120 years old.
PSF Mechanical implemented the BuildCentrix field ordering software in the company's sheet metal division two years ago. It allows online ordering from the field with fitting and component specific parameters and mandatory fields so orders are correct and the process is streamlined and efficient.
Recently, the company began using BuildCentrix timecards in the company's fabrication shops and in the logistics (shipping, receiving, delivery) areas—this module produces real-time labor and production data that can be integrated with materials and other cost factors to measure productivity, efficiency, and areas for improvement.
"We've got probably 23 field foreman ordering using BuildCentrix, and we have about 32 using timecard," says Talo Balderrama, shop general foreman for PSF Mechanical. "We are looking to expand that to other departments of the company and are just trying to figure out whether the detailing department can also use it."
The ordering portion is a time-saver in the shop, says Balderrama, since data needs only be entered once and imported to wherever it is needed. "It also saves time, error, and a step because the system self-corrects you if you mistype a dimension," he adds. "It will tell the user that the recommended length for the fitting input entered is X. So, we know a number of issues that could have arisen are already taken care of before we see the order."
Prior to using BuildCentrix, PSF Mechanical crews were filling out job order sheets by hand, naming the job number, job name, time in, and time out, but it wasn't uncommon for forms to be illegible, have conflicting information, or have information missing.
"Often I would have to track down a job number that didn't match with the job name, or if a field was left blank I would have to figure it out by asking the employee," says Balderrama. "I can't tell you how many timecards didn't add up to eight. That was just the start—sometimes even reading handwriting was impossible."
The BuildCentrix timecard eliminates these issues. Job names and numbers and time in and out must be inputted and must match or the user can't click "accept".
"Missing information is not an issue, which saves me time because I don't have to check as closely," says Baldemmera. "I save, easily, 50 percent of the time I used to spend on timecards, and I am aware of what everyone is doing. If anything feels wrong, it is much easier to check mistakes and get the problem fixed."
The payroll department was a bit resistant to the timecard implementation at first, uncertain the information BuildCentrix gathered would import correctly to the company's Spectrum accounting software. "It took some convincing, but now they are enjoying the same benefits the shop is," says Balderrama. "The information they receive is confirmed and has no errors."
Martin Marty, application support specialist for PSF Mechanical, says excellent customer support from BuildCentrix was essential in making the integration a success. BuildCentrix built a custom export report that PSF can import directly into Spectrum to facilitate communication between the two programs.
"This has been great because it still allows accounting to review the exports and adjust if needed and then easily import that into Spectrum using the Spectrum Data Exchange add-on in Excel," says Marty. "We recently built background services that automatically create new jobs in BuildCentrix and assign proper phase codes to each job using the new API BuildCentrix developed and our Microsoft Business Intelligence software that tracks all of the projects."
The quality of the data has not been affected since PSF Mechanical started using BuildCentrix for its time tracking—if anything it became better and more accurate.
"The entire process is very simple, and I have not seen any other product like BuildCentrix," says Marty. "We have tried numerous time tracking software in the past and failed miserably; BuildCentrix was the game changer for PSF."
People working in the shop have varying levels of tech savvy, says Balderrama. "Some of the guys were reluctant to try software and wanted to stick with pen and paper, but within three days everyone was on board. Training people who were using the previous method is much easier, since the information is already provided, and training new people is simple because they don't know any other way."
Balderrama says the company will use the information generated by the timecard module for more accurate and specific review and monitoring of other company functions. Most importantly, the process has been streamlined and smooth, and BuildCentrix has provided nearly immediate response to any problems that have arisen.
"When we need to address something, the shop manager will email BuildCentrix and they are really good about jumping right on it, or responding right away to let us know they will get to it as soon as they can," he says. "That has impressed me the most. I am a big customer service advocate and when there is an issue, I want a solution on my time, not someone else's." ■
By Jessica Kirby